Osteopathy is a manual health care therapy used to diagnose and treat a wide variety of medical conditions. Osteopathy does not rely upon surgery or drugs but rather believes the body, itself has its own ability to self regulate and heal. Disease arises when this innate ability is overwhelmed. Well being is restored when the structure and function of the body is optimised. Osteopaths do this by restoring harmony and balance through working with the body's nerves, bones, muscles and ligaments.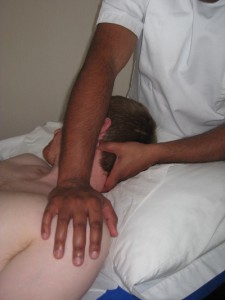 In order to practice Osteopaths have had to successfully complete a 4 to 5 year undergraduate degree. It is similar to a medical degree involving the study of physiology, pathology, pharmacology, nutrition, biomechanics and anatomy. A thousand hours of clinical training must also be completed. By law all Osteopaths have legally to be registered with the General Osteopathic Council.
Why Hearing Hands Osteopathy?   Good question it sounds quite strange and perhaps even eccentric doesn't it? It's based on our ability to perceive and communicate with touch. From over the thousands of patients that walk into an Osteopathic Clinic the therapist develops a trained sense of touch. The hands and fingers begin to appreciate the tensions, pulls and strains taking place beneath the surface. Muscles, joints and bone may feel boggy, cold or hot, and springy or hard: they all give clues to the state of health. To listen to the body and hear through our hands that's it really. I once read somewhere there are three opinions, my opinion, your opinion and the body's opinion…the last is most important when making a diagnosis.